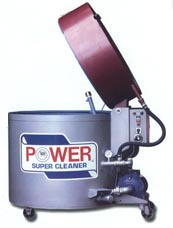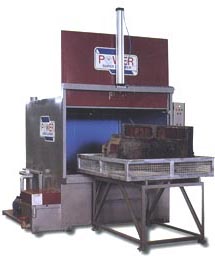 An optimal cleaning of oily components such as engine parts, machining parts, plastic parts, and wooden parts can be achieved by the combination of heat, pressure and chemical. The machine can easily be paid off by itself in a very short period of time through time and labor saving. It provides the solution in cleaning of the oily and dirt contamination of components in assembly industry, especially the engine assembly.



The panel control features :

* Timer ;
* Heater lamp indicators ;
* Temp control lamp indicator ;
* Temperature control setting ;
* Switches, Push button, for start and stop the operation.

Feature are :

* Time and labor saving due to the automatic operation of the machine itself ;
* Timer control for easily setting the duration of cleaning operation ;
* Only 5-10 min. cleaning time, depending on how oily workpiece is ;
* Very easy and convenient to operate by an unskilled labor with
simple operating instructions to follow ;
* Environmental-friendly and no health hazard because cleaning
chemical is mild alkaline and small amount is being used and
biodegradable ;
* Waterproof-sealed for electrical components to provide no
electrical leakage ;
* Safety, operation can not start when top cover is not properly
locked by latch ;
* Low cleaning solution by employing a mixture of water and small
amount of chemical, mild alkalinem, approx. 2% ;
* Easy access for loading and unloading workpieces with basket ;
* Light indicators to inform the status of the setting such as the water
level and temperature setting ;
* Heating and spray-injecting systems effectively provide means of
assisting in oily desolving and scrubbling actions during cleaning
operation. It can easily be removed for regular cleaning ;
* Simple electrical wiring for easy troubleshooting ;
* Quality material and reliable components ;
* Totally enclosed system, so workshop stays tidy and dry ;
* Equipped with trolley for easily and conveniently moving around
the garage, workshop, and / or factory floor ;




Your Places of Usage

Various facilities which employ Power Super-Cleaner for cleaning their oily components and parts such as : Garages, Injection Pump Test Center, Brake Service Shops, Mass-Transit Service Centers, Machining Workshops, Military Equipment Service Center, Steel Mills, Dockyards, Refineries, Electroplating, Painting Workshop, Foundry Workshop, and etc.